Comedy's Fab Five
| | |
| --- | --- |
| | Bipolar or not, a certain manic energy drives their work. |
Five bipolar comic geniuses. The bipolar community claims each one as their own, regardless of the fact that not all of them have openly declared themselves. But we know one when we see one, the reasoning goes - from the helter-skelter pace of their deliveries to their in-your-face mannerisms and outlandish body movements to their absurdist surrealistic humor and wickedly dark and mischievous characterizations that tell the world these neurons have gone where no neurons have gone before.
Ladies and gentlemen, let's give it up for Spike Milligan, Jonathan Winters, John Cleese, Robin Williams, and Jim Carrey.


My New Book!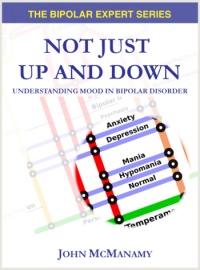 Purchase now.
Spike Milligan
Spike Milligan was the son of an Irish Army officer serving the British in colonial India. During World War II, he suffered shell shock that would trigger his bipolar disorder and lead to at least 10 nervous breakdowns.
"If people want to know where down is, tell them Spike Milligan knows," he once said. "Manic depression is a very lonely journey."
In the 1950s, he became the brains behind BBC Radio's legendary "Goon Show," where a totally original new wacky black humor was born, where Peter Sellers got his start, and from where Monty Python and others drew their inspiration. His off-beat and poignant war memoirs, including "Adolph Hitler: My Part in His Downfall," became best-sellers throughout the British Commonwealth, and his gleefully irreverent "Bad Jelly the Witch" is cherished by generations of British kids and their parents. In 2001, he was awarded an honorary knighthood. When he died in 2002 at age 83, the entire UK, led by ardent fan Prince Charles, mourned his passing.
Jonathan Winters
Of Spike Milligan's generation is Jonathan Winters, creator of a wildly unpredictable comedy that would inspire Robin Williams and others. Two highly publicized nervous breakdowns - the result of bipolar disorder and alcoholism - early in his career gave TV producers the jitters about giving him his own regular series, but he cemented his reputation appearing with Jack Paar, Johnny Carson, Steve Allen, and numerous others that led to TV specials and his own series in 1967-69. He virtually stole the show with his portrayal of a crazed mechanic in "It's a Mad Mad Mad Mad World." Later generations would know him as Robin Williams' son on "Mork and Mindy."
John Cleese
The funniest sketch comedy series in TV history has to be "Monty Python's Flying Circus" (dating from the late sixties-early seventies), and a case can be made for "Fawlty Towers" (dating from the mid-seventies) as TV's greatest situation comedy series. Add to that some of the craziest movies of all time, including "And Now For Something Completely Different," "Monty Python and the Holy Grail," "Life of Brian," (all from Monty Python), plus "A Fish Called Wanda" and numerous scene-stealing parts in various movies and TV shows.
The ultimate high-strung British twit and Minister of Silly Walks in Monty Python, the tightly wound-up and totally inept hotelier in Fawlty Towers, in the early seventies John Cleese was felled by unexplained flu symptoms eventually diagnosed as depression. His recovery led to a deep interest in psychology and the production of a video, "Life and How to Survive It." John Cleese has not acknowledged bipolar disorder. Watch his dead parrot sketch and you decide.
Robin Williams
You know you have bipolar, the joke goes, if you think Robin Williams is too laid back. "Manic" is the term most often used to describe his rapid-fire free-associating improvisational delivery. Conversely, simply saying his name is the best way to describe a manic episode to someone unfamiliar with bipolar disorder.
Unfortunately, of the many movies he has appeared in, only "Good Morning, Vietnam" and his voice as the genie in "Aladdin" do him justice, notwithstanding his Oscar for "Good Will Hunting" and Golden Globe for "The Fisher King." Significantly, "Vietnam" and "Aladdin" were the two he threw away the script to and (m)adlibbed to his heart's content. The seventies TV series that put him on the map, "Mork and Mindy," routinely had built-in breaks in the script to accommodate his unpredictable comedic cadenzas. On the record, Robin Williams is normal, with no bipolar skeletons in his closet. Catch him in a live performance, however, and you be the judge.
Update, Aug, 2014: We now know the late Robin Williams experienced depression and may have contended with bipolar disorder. A more considered look at the issues is forthcoming ...
Jim Carrey
Jim Carrey is unknown to the DSM-IV, at least publicly, despite an unfortunate childhood that resulted in him dropping out of school at age 16 to support his family and a mother who suffered from depression. If you think his neurons check out as normal, however, rent "The Mask" and ask yourself if someone without our diagnosis could ever have played the part.
Sorry, Ben Stiller
You may have publicly proclaimed you have bipolar. But compared to these guys?
Jan 3, 2004, reviewed Jan, 17, 2011