SCIENCE ARTICLES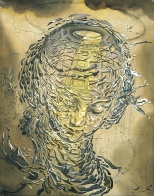 THE KEY to recovery lies in knowing about how the inside of our head reacts to whatever is going on outside our head. This isn't esoteric academic knowledge. Our lives are at stake.
Scientific discovery holds out hope of effective and safe new treatments. More important, it is validating recovery techniques that we can apply right now.
Here you are likely to find more questions than answers, as every apparent answer yields hundreds of questions. Nothing in science is a closed case. Enquiry is always open-ended, reaching into the unknown. So please do not worry if you find yourself scratching your head. As long as you're asking questions, you are in the right place.
Treat this section as a good beach read and enjoy.
Image credits: The pics and slideshow presentations used to illustrate many of the articles in this section are in the public domain, courtesy of the NIH.
The pic to illustrate Science is a close-up of Dali's "Exploding Raphaelist Head." Dali was equally fascinated with Freud and the quantum building blocks of existence. This painting says it all.