VIDEOS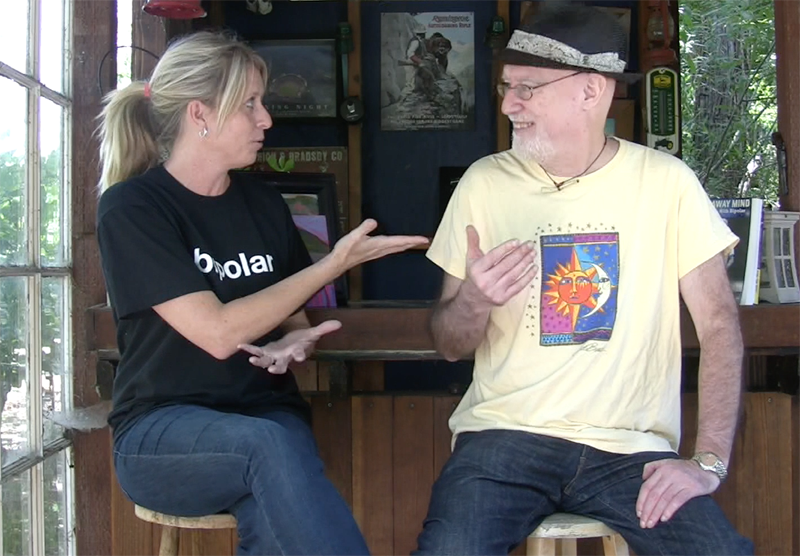 BIPOLAR STUFF IN THE SHACK WITH JOHN AND MAGGIE
One day in late May, 20016, I tossed my video camera and a tripod and a couple of changes of clothes in the car and drove to the home of my good friend, Maggie Reese.
Maggie is the author of the memoir, Runaway Mind. She will soon have another book out, Runaway Mom. I featured Maggie in a chapter of my book, NOT JUST UP AND DOWN.
We are very different people, but any time we have met we just seem to spark off of each other. Once we start talking, neither of us can stop. So one day, we decided to see what would happen if we had the camera rolling.
I wrote down five possible topics. Maggie wrote down another five. That was all the scripting we did. We would just take a topic and run with it, and see what happened. My expectation was that in the four hours we had available, we would be lucky to get three short videos.
You know, technical adjustments, lots of hiccups, endless retakes. I also expected to spend countless hours of editing our footage into something coherent.
Then something amazing happened. Maggie set the scene as the host and I jumped in and – pow! – we were off and running. When we called it a day, we had 13 videos in the can, averaging about 17 minutes, on a vast range of bipolar topics from what to do when your brain gets overwhelmed to relationships to the healing power of music.
All I had to do when I got home was tack on an opening and closing sequence, then upload to our new YouTube channel, BIPOLAR STUFF IN THE SHACK WITH JOHN AND MAGGIE.
The next week, we shot another 13 videos in one go. This time, some of them required minor editing, as we were experimenting with some new features, including "Ask the Nerd" and "Ask Maggie."
So now we have 26 videos - informative, entertaining, gut-wrenching, and life-enhancing. When Maggie gets back from summer holidays, we will be doing more. And we will be looking to going further – to going to different locations and hosting guests and so on.
In the meantime, thanks to my totally amazing collaborator, I can say without reservation that BIPOLAR STUFF IN THE SHACK represents the finest collection of bipolar videos to be found anywhere. Enjoy!