Treating Bipolar Depression
| | |
| --- | --- |
| | You're depressed way more than you're manic. This is news to your doctor. |
Antidepressants and bipolar depression. When Nassir Ghaemi MD of Tufts University was in residency at McLean Hospital, he assumed there was no harm in using antidepressants to treat bipolar depression. After all, "depression was depression," or so he and just about every clinician thought.
Working with Gary Sachs MD of Harvard and Frederick Goodwin MD of George Washington University helped change his mind.
At the 2008 American Psychiatric Association's annual meeting, at a packed symposium devoted to "Antidepressants in Bipolar Disorder: Toward a Research Based Consensus," Dr Ghaemi cited Holmes' Rule: "All medications are guilty until proven innocent."


My New Book!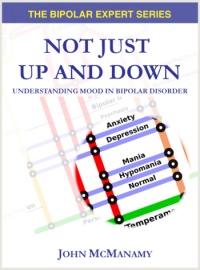 Purchase now.
Eighty percent of patients with bipolar disorder, Dr Ghaemi advised, have been exposed to antidepressants.
Is it possible that so many clinicians could be so wrong? It has happened before, Dr Ghaemi reminded his audience. Simply cast your mind back to when blood-letting was the rage. As I reported in Newsletter 6#10, regarding a presentation by Dr Ghaemi at the 2004 APA meeting:
The story begins in 1835 when Pierre Louis first applied the art of counting to the most common medical treatment of the day - bleeding, specifically leeching. Fifty percent of pneumonia patients, Louis discovered, died within three days on the treatment. Prior to the study, 33 million leeches were imported into Paris. Two years after the study, only seven thousand.
Treating Bipolar Depression - The Challenge
At the 2008 APA symposium, Robert Post MD of Penn State advised: "We have to change the way we practice this illness."
Back in 2001, in a survey by the Stanley Foundation Bipolar Network, Dr Post and his colleagues did some counting of their own. Their tally revealed that, despite the fact that mania gets virtually all the attention, bipolar patients are depressed three times more than they are manic or hypomanic.
Knock me over with a feather. Now if we only knew how to treat bipolar depression.
Back then, despite virtually no evidence, few clinicians questioned the practice of treating bipolar patients with a mood stabilizer-antidepressant cocktail. Call it faith-based psychiatry. Ironically, the believers demanded evidence from the nay-sayers. Meanwhile, research by Lori Altshuler MD of UCLA raised the possibility that a small group of patients could benefit from being left on an antidepressant.
Could a major counting exercise shed light on the topic?
At around the same time that Dr Post was disclosing his findings on bipolar depression, the NIMH was gearing up to find out what worked for patients in the real world. STEP-BD, headed up by Dr Sachs, recruited 3,000 bipolar patients from 22 centers across the US. In 2006, the first STEP-BD finding relating to treating bipolar depression was published. Two more followed in 2007, and another one in 2008..
At last, some counting ...
Adding an Antidepressant
At the 2008 APA symposium, Dr Sachs elaborated on key findings to emerge from STEP-BD:
In the first study, published in the April 26, 2007 New England Journal of Medicine, 366 bipolar patients with depression and already on a mood stabilizer were given either an antidepressant or a placebo over 26 weeks. The study measured for "durable recovery" - eight weeks in remission - a much higher standard than industry-sponsored clinical trials.
The results were a virtual dead heat. A quarter of the patients in both groups achieved durable recovery. Using less strict criteria, four in ten of the patients on an adjunctive antidepressant got better vs five in ten on just a mood stabilizer. In other words, adding an antidepressant did nothing to improve the outcome of the patient.
The surprise was that adding an antidepressant did not induce any switches into mania, but two subsequent STEP-BD findings add strong caveats to this:
A study published in the Sept 2007 American Journal of Psychiatry investigated a population of depressed bipolar patients complicated by manic features. In their commentary to the study article, the authors observe that these depressive mixed states are common, even though they are not acknowledged by the DSM-IV. (The only mixed state the DSM recognizes is full-blown mania accompanied by major depression).
The study found that even two manic symptoms in depression can be clinically significant. Those who received an antidepressant with their mood stabilizer had more severe manic symptoms after three months than those who did not.
The study authors pointed out that clinicians who fail to pick up mania symptoms in depression may mistakenly "assume a beneficial role for antidepressant psychopharmacology."
At the 2008 APA symposium, Dr Sachs noted that depression dominates the clinical picture. But depression may indicate mania in the neighborhood, much like, he said, the Big Dipper pointing the way to the Little Dipper.
Last but not least, a study published in the Jan 2008 AJP found that patients who rapid-cycle experienced "more frequent mood episodes" on an adjunctive antidepressant over one year.
Unresolved Issues
A 2003 study by Dr Altshuler, based on Stanley Foundation Bipolar Network data, indicates that about 15 percent of bipolar patients may benefit from staying on an antidepressant. At the 2008 APA symposium, Dr Sachs reported that STEP-BD was unsuccessful in teasing out this population.
At the same symposium, Dr Altshuler reported on a secondary analysis of a study published in the Feb 2006 AJP which found that those with bipolar I experienced greater rates of manic/hypomanic switches on an adjunctive antidepressant compared to those with bipolar II - two percent vs 12 percent.
Further Complications to Antidepressants
At the 2008 APA symposium, Frederick Goodwin MD, former head of the NIMH, observed that clinicians are now seeing patients in states "altered by antidepressants." Eighty-six percent of antidepressant scripts, he said, are written by GPs. Moreover, 50 percent of those with bipolar have been misdiagnosed by their psychiatrists.
In other words, thanks to widespread use of SSRIs, the medical profession is turning apparent depressives into bipolars with complications.
We now see, Dr Goodwin said, a higher incidence of mixed states, rapid-cycling, and non-response to lithium. Moreover, picking up on remarks by Dr Post, "having a mania changes your brain forever."
Dr Goodwin also raised the prospect of an antidepressant speeding up cycling, even with a mood stabilizer, thereby resulting in the possibility of paradoxical switches into depression.
For one-third of those with the bipolar diathesis, Dr Goodwin went on to say, "SSRIs have been terrible."
As For Lamictal and Seroquel
Meanwhile, over at another 2008 APA symposium, "New APA Practice Guidelines: MDD and Bipolar Disorder," Robert Hirschfeld MD of the University of Texas, Galveston presented the study evidence that guided the APA panel charged with updating its 2002 Bipolar Practice Guideline. The new Guideline was published in May, 2009.
With reference to treating acute bipolar depression, Dr Hirschfeld admitted to "a little bit of head scratching" when it came to Lamictal. This is because in six trials, the drug had better results than the placebo just one time.
"At this point," he said. "We cannot recommend [Lamictal] as a first line treatment." As an add-on in maintenance treatment, he added, it is better. (STEP-BD found 24 percent durable recovery with Lamictal as an add-on.)
Seroquel, in the meantime, has five "compelling" studies going for it. Zyprexa and Symbyax (Zyprexa and Prozac in one pill) also have positive studies, but there are side effects issues.
Thus: First optimize the current meds, then go with Seroquel monotherapy, then Symbyax.
Lamictal enters the picture later, as an add-on med in the maintenance phase.
"This really is a sea change," Dr Hirschfeld noted, "far from current clinical practice." With reference to the 2002 Guideline (which recommended antidepressants for maintenance treatment, Dr Hirschfeld commented, "It is hard to justify some of our conclusions."
More on Lamictal
Talk to any doctor who treats a lot of bipolar patients and you will hear a different story - that Lamictal is highly effective for treating acute bipolar depression. Hagop Akiskal MD of UCSD, for instance, rates Lamictal as one of the three great meds discoveries (along with lithium and Prozac). When I asked him to explain to me the disconnect between the results he and others observe with this med in clinical practice and the succession of failed clinical trials, Dr Akiskal responded that "science is fallible." GSK, he went on to say, did not know how to measure for bipolar.
Indeed, an examination of the GSK trials bears this out, with the primary endpoints (such as improvements on the HAM-D) varying from trial to trial.
Meanwhile, Back at the Ranch
Question time at the "Antidepressants in Bipolar Disorder" forum shed light on how much we have yet to learn about treating bipolar depression. In response to a query on the use of stimulants, Dr Post advised that patients tend to get tolerant to these meds, making their long-term use problematic.
Dr Ghaemi urged caution. Stimulants may have the same switch rates as antidepressants, he said. For cognition issues, he has found the Alzheimer's med galantamine useful. By contrast, Dr Altshuler noted that co-occurring ADHD runs high in bipolar patients. Giving these patients stimulants helps them get back to work, she said, whereas doing nothing is doing a form of harm.
Hmm. Might make a suitable counting exercise. Oops! STEP-BD has wound down and the Stanley Foundation Bipolar Network is no more. For want of funding, important treatment questions go unanswered. With this in mind, Dr Post advocated the need for a clinical trials network, with NIMH backing.
Meanwhile, "clinical practice and individual patient response trumps everything," he concluded.
In other words, we're on our own.
An Add-on That Works
Another STEP study, published in the Sept 2007 AJP, measured the efficacy of three talking therapies in 293 bipolar patients with depression. The therapies included 30 sessions on cognitive-behavioral therapy, interpersonal and social rhythm therapy (which targets sleep/wake cycles), and family focussed therapy. The control group received three sessions of "collaborative care."
The patients receiving talking therapy got better 110 days faster and stayed well longer than the control group.
But are psychiatrists ready to embrace talking therapy?
At the APA the year before, at a symposium, Holly Schwartz MD of the University of Pittsburgh spoke on the benefits of talking therapy for treating bipolar. She presented a case study of a patient not responding too well to meds, with clear worries regarding family and ability to continue with her graduate studies.
She presented four options. Three involved adding meds or increasing meds doses. One involved initiating psychotherapy with the meds. The audience responded via portable electronic keypads. "This is a slam dunk," the psychiatrist next to me commented.
Fifty-two percent of the psychiatrists chose the meds options. Only 48 percent chose the psychotherapy option.
The next day, I had chance to talk with Dr Swartz and her co-presenter, Michael Thase MD of the University of Pennsylvania. "How could so many psychiatrists get it so wrong?" was the gist of my query. On a slam dunk question, at that.
But Drs Swartz and Thase were encouraged by the results. A few years ago, they assured me, the number who got it wrong would have been much higher.
Are Psychiatrists Capable of Changing the Way They Practice?
A more appropriate question is: Is YOUR psychiatrist capable of changing the way he or she practices?
This article is an extensive revision of a 2008 article, Jan 10, 2011